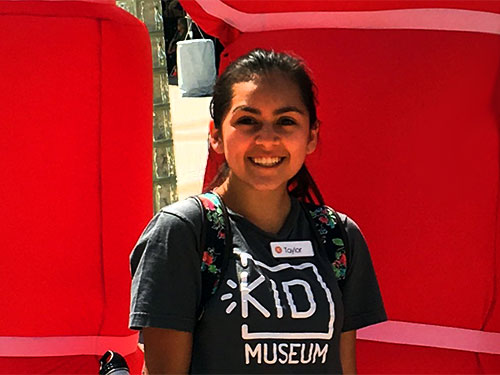 Northeastern University is known for its co-op program, which allows students to work as a full-time employee of a company for six months at a time. As a sophomore, I've just gone through my first serious job hunt. I'm a Mechanical Engineering student, so most jobs will involve hands-on machining, fast-paced prototyping, and a bit of coding. Funnily enough, these are all things that I first experienced as a KID Museum Apprentice.
I came to KID as an apprentice the summer after my senior year of high school. The woodshop, the wind tubes, and the drawbots were my favorite stations, and coming in to work felt like I was a kid in a toy store every day. I was initially undeclared when I was accepted to Northeastern, but after working at KID for the summer, I was absolutely set on studying mechanical engineering. The hands-on experience I gained at KID definitely gave me a leg up in my first-year engineering curriculum. Group projects required us to spend hours building flying machines or coding facial recognition programs, and the year culminated with a project wiring and programming an Arduino robot to find a spot of light in a dark room. Thanks to my time at KID, I came into the project having worked with circuits and simple robots, and my team's robot ultimately found the spot of light in under 10 seconds.
This year, the skills I developed at KID were highlighted on my resume for my first co-op search. Within a week of sending it out, I had scheduled interviews with iRobot and Hasbro, and sent work samples to Dassault Systemes.
Every single interviewer asked about my time at KID. To speak to my hands-on experience, I referenced leading woodshop builds as an apprentice. When asked about my preferred work environment, I described KID's dynamic and vibrant spirit, combined with a sense of educational outreach and community service.
The companies I interviewed with all have STEM programs for local students, so having experience at a kid-friendly makerspace helped as well. In fact, I believe it is a large part of the reason that I was hired to work alongside the engineers on Hasbro's Animatronics Team. Starting in July, I'll be prototyping and debugging robotic toys like the Furby or Fur Real Friends line. Needless to say, I am very excited to have accepted the opportunity, and I owe a debt of gratitude to KID for helping prepare me for it.
– Taylor Anne Frey
Taylor is a former KID Museum Apprentice (turned staff member). She is currently working towards her B.S. in Mechanical Engineering at Northeastern University.