KID Museum field trips feature maker activities geared towards elementary and middle school-aged students. Our hands-on STEM activities encourage creativity and critical thinking, and give students the opportunity to work collaboratively, take risks, and solve problems together. Our programming is differentiated for each grade level and customized to a group's specific needs. We offer three field trip options: Explorer Program, Workshops, and Invention Studio.
To schedule a visit or to find out more about our programs, please contact Laurel Harrington, School Visit Coordinator, with the following information:
Program preference

Size of group

Grade/age of students

Available dates and times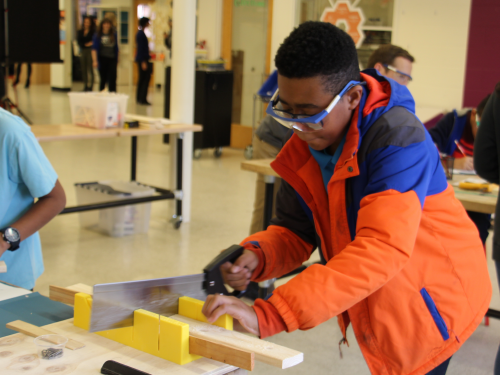 Our 90 minute Explorer Program is a sample or introduction to our programs. Students rotate between three separate activities which are facilitated by our staff. Activity options include:
WIND TUBES
Create a flying machine and test it in a wind tube. Predict and observe how your creation will fly, and change flight patterns by altering materials,  shape, size, and weight.
CIRCUITS
Experiment with circuits by connecting power to lights, buzzers and fans. Add switches and multiple outputs and experiment with serial and parallel circuits.
DRAWBOTS
Build machines that scribble and draw using motors, circuits and everyday materials. Discover how changing the structure, or the position of the motor, will cause it to draw in different ways.
PING
Connect clear tubes to send your messages on a winding path (and overhead) using wind power. This activity relates to force and motion and encourages team work, collaboration, and problem solving. No cell phone contract required.
PIPE DREAM
Send a sphere from here to there using only gravity. Build an over-sized course using pipes, elbows, hoses and couplers in this freeform ball and tube challenge. This activity relates to force and motion and encourages team work, collaboration, and problem solving.
Our 90-minute workshops focus on one topic and relate to concepts of design, engineering, electronics or coding. Please contact us for a current listing of available workshops. If you are looking for a full day of programming, you can choose a morning and an afternoon workshop or you can pair our Explorer program with a workshop.
In this program, middle school students participate in an engaging, multi-session, project-based learning experience. Over a series of six visits, students work in small groups to develop
basic competency in four key content areas:
Electronics & Analog Circuits
Kinetics & Mechanical Engineering
Woodshop Hand & Power Tools
Microcontrollers
Invention Studio culminates in a ceremony where students present their inventions to family, friends, and museum visitors.
In past years, students have built wind-powered cell phone chargers, designed their own flashlights, programmed their own robots, and created original digital musical compositions.
It made me cry to see our first graders so joyful and engaged from beginning to end. The activities were so brilliantly planned, materials were plentiful, and every single child appeared caught up as if by magic.

Robin Loube

First Grade ESOL Teacher
We had about 50 kids and there wasn't one that wasn't focused and engaged the whole time - when does that ever happen? We all left there amazed about the amount of fun and learning that took place in such a short window of time.

Susan Eagle
The place is amazing and I don't know if I have seen the girls so engaged and excited about anything we have done... It is our new favorite place!!

Liz Weirshousky, Junior Girl Scout troop leader
You could see their faces light up with excitement as they did each activity!

Martha Thomas Waugaman, troop parent
The program was beyond our expectations. The 'kids' were so engaged and excited for both of the projects – and parents seemed excited to check out the museum facility.

High School teacher
We appreciated your hospitality – but also how you encouraged and supported the kids as they worked, without telling them what to do. The calm, caring help enabled them to keep trying and to feel successful.