In our KID Stories & Snapshots series, we're sharing the little moments that make a big statement. These are the moments, captured by our community, that are making an impact.
A weekday school group visit to KID delights kids and adults alike. Sequoyah Elementary School students and teachers came into KID Museum this past December for an "Explorer Program" field trip–and it wasn't just the kids having fun. Kathryn, a 5th grade teacher at the school, said the day was so engaging, even for the adults: "There were conversations about how great of a time everyone had, even into the next morning." The visit was filled with "so many smiles, so much laughter, and so much persistence."
(captured by Sequoyah Elementary School teachers)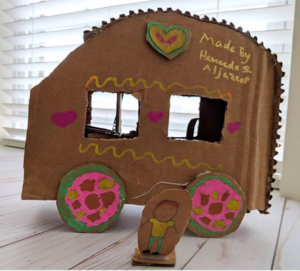 A mother/daughter duo come to KID to make together. The proud mom shared their latest creation (pictured) with us on Instagram a few weeks ago: "My daughter and I made this camper van as a recycling project at KID Museum." Not only was she ecstatic to discover their shared interests at KID, but she loves the opportunity to use recycled materials in the Cardboard Construction station during Open Explore. She says it teaches kids the "value of recycling and being creative."
(captured by the mother @totally_handmade on Instagram)
An apprehensive winter break camper ends up not wanting to miss a minute of time at KID. Miriam, initially worried about the social aspects of camp, advises kids not to worry if you don't know anyone–"you will make lots of friends!" She enjoyed Winter Daily Camp so much, she ended up attending every day. Her mom Adina wound up being off on December 31 and asked if she wanted to stay home, or get picked up early. "She told me absolutely not–I could not pick her up even at 3:59pm because what if she were to miss one little thing?!" 
(captured by the mother and Maker Educator Ram)
Want to share your KID moment with us for an upcoming feature?
Email us with your stories and snapshots here.